ApiEXPO
EXHIBITION CENTER
Trade Pavillion of the Espacio Riesco will be used as the exhibition center of Apimondia 2023 with a total area of more than 10.000 sqm.
CATEGORY
Paid After
May 01st, 2023
Premium Zone A
( Minimum 18 sqm & Space Only )
475.-USD per sqm
Zone B
(stand booth – 1 unit 9 sqm)
4.000.-USD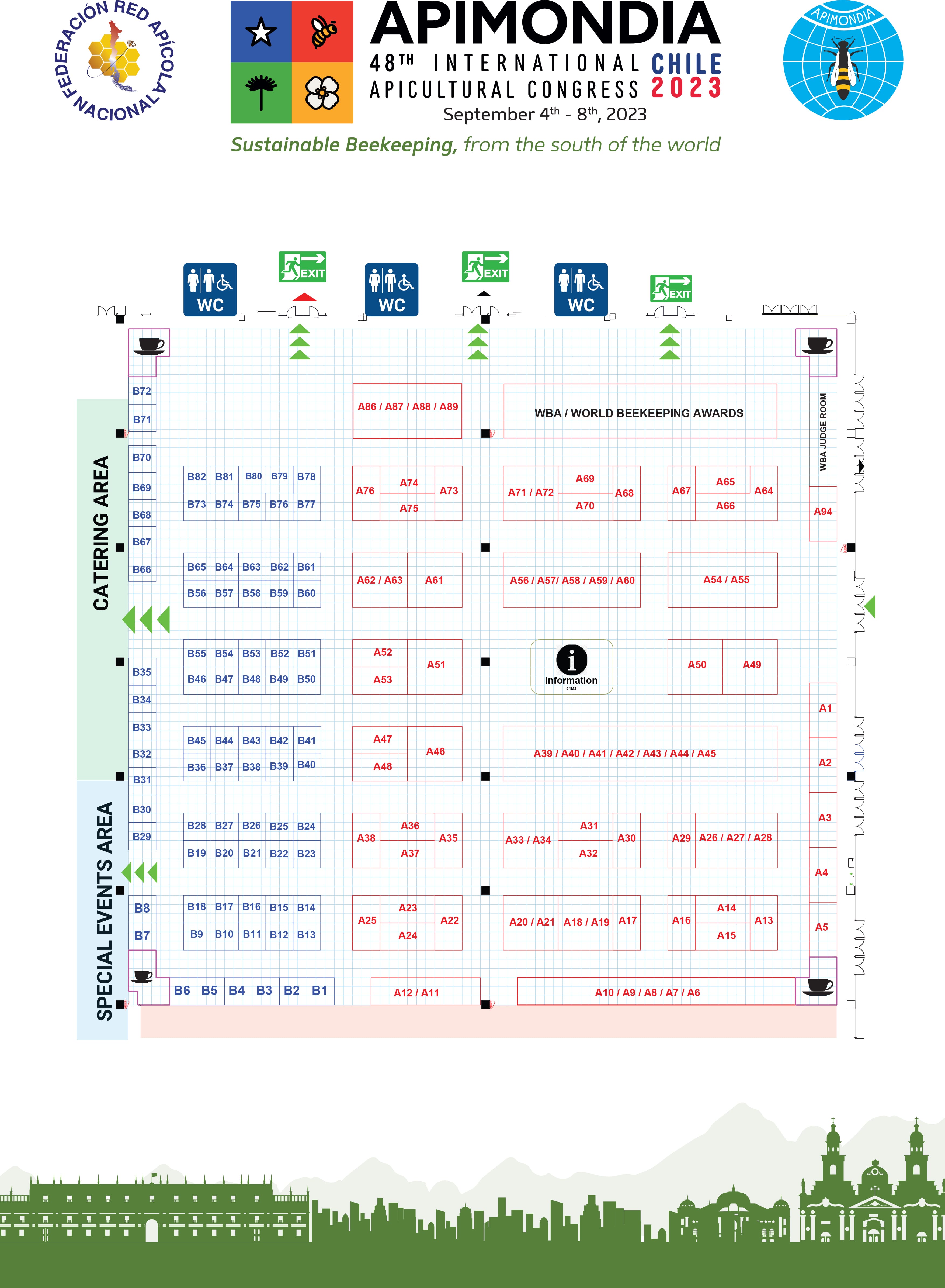 A Zone Booth Details
Nothing will be provided but the exact floor measurement of the booth.
The organizers have ruled that no other booth construction company than the official company of the congress will be allowed to work onsite or within the exhibition hall.
B Zone Details
Shell Scheme Booth Includes the following items:
Set up and dismantling, White panels modular system, 3 spot light, 2 chair, 1 table, 1 wastebin, standart electric power extension cord, 1 Fascia with company name.
Free Registration Passes
| | |
| --- | --- |
| Zone A | 1 Full + 1 Exhibitor Registration for 18 sqm |
| Zone A | 1 Full + 2 Exhibitor Registration for 18 to 54 sqm |
| Zone A | 2 Full + 3 Exhibitor Registration for 54 sqm and bigger |
| Zone B | 1 Exhibitor Registration for Each 9 sqm |
Method of Application and Payment
Please click interactive map
Decide your Zone type and booth number ( green colour shows available booths, yellow colour shows reserved booths )
Please click online application
Please fill the form
Please click zone type - booth number and add button ( if the number is not in the list it means that it is reserved )
Please check your summary
Please click cancellation policy
Please click submit
After finalizing your online application you will receive a confirmation mail directly from the system. ApiExpo team will send you an invoice to further the procedure.
The exhibitor shall pay the invoice issued by the organizer by wire transfer to the bank account within 5 ( five ) days commencing the invoice issue date.
Booth confirmation will send after receiving the total amount.
Allocation of Booth Space
Space allocation will be made on a "first come, first served" basis. Space allocations will be made in the order in which application forms with payment are received. To facilitate an effective layout of the Exhibition and if the Organiser believes it to be in the best interest of the Exhibition, the Organiser has the right to make a booth reallocation at any time.
Cancellation
All cancellation must be to appeal in writing to Apimondia 2023 Congress – ApiExpo department. After exhibition space has been confirmed, a reduction in space or any other kind of modification is considered as a cancellation with below cancellation policy. Reduction in space can result in relocation of exhibit space at the direction of organizers. All refunds will be made after the congress.
| | | |
| --- | --- | --- |
| | Prior to April 30th, 2023 | After May 1st, 2023 |
| All Cancellations | %50 refund of total booth cost | No Refund |
| Reduction / Modification | %50 refund of reducted booth cost | No Refund |
Official Agency in China


Company : Beijing Trade International Exhibition Co Ltd
Contact : Mr. William Xu & Mr. Edwin Ma
Tel : +8613522853115 & +8613811334221
Email : [email protected] & [email protected]
ApiEXPO CONTACT
Conmark Tourism & Event Management Company
Phone:
+90 212 241 45 41
E-Mail:
[email protected]